Carsforsale.com and NASCAR Driver Landon Cassill Continue 2015 Road Trip
When you think about summer in America, there are a few pastimes that come to mind. Tailgating at a baseball game, taking in 18 holes at the local links, s'mores on an open fire, and a good old fashioned cross country road trip are all things that many Americans do to celebrate when the warmer weather hits. Carsforsale.com is currently in the midst of our own road trip this year with NASCAR Sprint Cup Series driver Landon Cassill. Last year Carsforsale.com had the opportunity to sponsor the Hillman Smith Motorsports #40 driver in six races as primary sponsor, and we had so much fun along the way that we decided to continue the tradition with six races in the 2015 season.

Daytona Beach, FL – 2/22/15
Carsforsale.com got off to an early start in the 2015 season and brought out the yellow and red #40 Chevy SS at the Daytona 500. This Great American Race is a time-honored tradition in NASCAR and we were excited to return to this legendary track. Landon Cassill raced his way into the Daytona 500 with a 9th place finish in the Budweiser Duel 1 on Friday leading up to the Sunday race. However, this year the engine blew early in the Daytona 500 and ended the day for the #40 Carsforsale.com car.
Las Vegas, NV – 3/8/15
The next stop brings the #40 Carsforsale.com Chevy to the Entertainment Capital of the World, or Las Vegas, NV. The Kobalt 400 is a 1.5mi track with 20 degree turns in each corner. It's a new stop on the Carsforsale.com road trip and should be an exciting race on Sunday, March 8th. With Daytona only two weeks prior, our hopes are high that we will be lucky in Vegas this year.
Kansas City, KS – 5/9/15
With a race name like the Spongebob Squarepants 400, you know it's going to be a fun and interesting race. This next stop on our journey takes us to Kansas City, KS for the first night race of the 2015 season. With the exception of a road course race, NASCAR doesn't get much more exciting than racing when the sun goes down and the lights go on. Kansas Speedway is another 1.5mi track, but with variable degree banking in the turns. Carsforsale.com is headquartered in Sioux Falls, SD and is the closest race to home for our crew.
 Brooklyn, MI – 6/14/15
The Wolverine State is the fourth stop on our journey and is a very special one for Landon Cassill. Michigan International Speedway was where he got his first Sprint Cup Series race back in 2010. It was also in Michigan that he had his first top 15 finish back in 2011. The Quicken Loans 400 at MIS is a 2mi track located on 1,400 beautiful acres in scenic Brooklyn, MI in the Irish Hills. Brooklyn is located just 45 southwest of Ann Arbor.
Bristol, TN – 8/22/15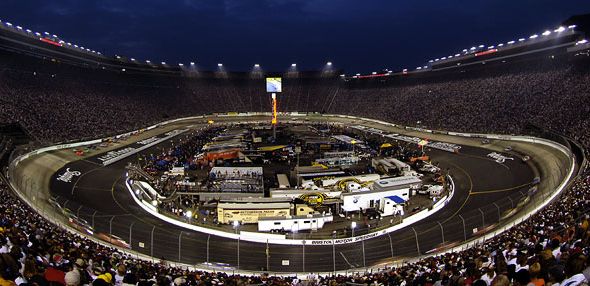 Our next stop on the Carsforsale.com road trip is in Bristol, TN at the Bristol Motor Speedway for the Irwin Tools Night Race. For anyone unfamiliar with Bristol, it's one of the shortest tracks in the NASCAR Sprint Cup schedule measuring just 0.533 miles. This race is set for 500 laps to be completed for a total of 266.5 miles. Billed as the "World's Fastest Half Mile", Bristol is another great night race under the lights. Fans completely surround the track 360 degrees for a truly unique NASCAR experience.
 Talladega, AL – 10/25/15
As with any road trip, at some point they need to end. What better place to end the 2015 season for the Carsforsale.com #40 Chevy SS than at such a legendary track like Talladega. We switch gears from the last race at Bristol which is one of the shortest tracks in NASCAR, to Talladega which is the longest track in the Sprint Cup Series. Last year, after starting the race in 29th place, Landon fought hard and pulled his way up to finish at a career best 4th place finish in the Carsforsale.com car. Landon races well in restrictor plate races and the Hillman Smith team puts out some fast cars, so Carsforsale.com is excited to see the result this year.
It's going to be quite the adventure on the 2015 Carsforsale.com Road Trip. We hope you can come out and see the yellow and red Carsforsale.com Chevy SS along the way. If planning your own summer road trip or considering one for next year, be sure to check out Carsforsale.com if you are looking for a vehicle, RV or trailer to load up the whole family.